History

The Fenway Group was born out of two sister companies. Sands Creative Group and Fenway Printers. Sands Creative Group began in 1993, providing graphic design and prepress services. Founder Rick Sands saw the potential of integrated services with new software like Aldus Pagemaker. Little did he know just how integrated he would eventually make the Fenway Group. In 1999 Todd Nugent and Rick purchased a small print shop in Brookline, Massachusetts. Under Todd's leadership the printing company flourished and grew in all print and production modes — both digital and offset. In 2006, Todd and Rick made the merger official, and in 2012 both companies rebranded as The Fenway Group.
---
Company Culture
The Fenway Group believes in the principle of delivering high quality marketing materials to clients. We have successfully worked with hundreds of clients across many different industries. The Fenway Group has the know-how, facilities, and strategic relationships in place to meet all of your organization's marketing communication needs. Our modest goal is to simply keep you happy. And to that end, we will strive to communicate directly with you on a consistent basis, understand and prioritize your requests and needs for production and graphic design-related services, and ensure the highest quality results in the most cost-efficient manner.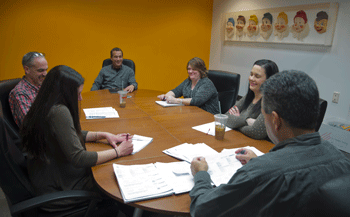 ---
Mission Statement
Our mission is to exceed client expectations by providing the highest quality service and product possible in a timely manner. We measure our success by creating long lasting, prosperous relationships with our client partners in order to help them reach their goals and make an impact in their marketplace.