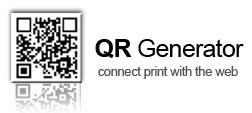 QR Codes are the latest medium linking your marketing collateral to the web. Take full advantage of this technology and instantaneously generate your own unique QR code.
QR, short for quick response, is a barcode that can be read with most any smartphone camera and interpreted with a QR reader application. Once scanned the end user is presented with the option of being directed to a web based offering(s) and/or places. It's simple and quick!
Visit our QR Code Generator to start generating your free personalized QR Code!